Episode 87
Guest: Magnus Billgren & Petra Färm
Unwrapping the future of 2022
Let's end 2021 by revealing a well-kept secret in product management… It's really a fashion industry. Trends come and go, come back again revamped. Customer-centric, Design Thinking, Impact mapping, Golden features, value proposition, OKRs, the product manager as the CEO.
But where do the trends originate from? Or how can we identify the next big thing? Is it on the catwalks in Paris, the fashion week in Milan, the streets of New York, or Berlin…


If we start with the geographical question first – where in the world can we expect to see the next wave of cutting-edge products and product management


THE WORLD


When we discussed it 11 years ago at a conference it was obvious that almost all thinking in the management space came from the Boston area.


Over the last 10 years, there has been a big shift towards Silicon Valley, about 2/3 of the ven cap was invested in the area 8y ago. And today we see a majority of the literature and models emerge from California.


But things are really changing. The rise of the Chinese Dragon is obvious especially with the 5-year plan to become self-sufficient on critical technologies. But also the Indian market is changing drastically. We all know the quality of Indian development. But now the Indian startup scene is a number of IPOs has fuelled the economy with capital. It is slowly becoming product-led.


But maybe the most undervalued change is that of Europe. In 2021 the investments in >Europe are on par with US. Approx 100 billion USD is invested. And this is coming from a level where tye investments in Europe used to be 1/5 of the US market. Uk, Scandinavia, Holland are performing. But Especially interesting is the rise of Germany in the software sector. It is exciting to watch the numbers from Atomica in their report "The state of the European Tech"


We are in the midst not only of a tech change but also of a shift in the world.


JOURNEYS


The Tesla hype never ends. That in itself is impressive. The first Tesla was released in 2008 and they have without doubt changed the automotive industry in more than one way. Like how we buy cars for example. Since they had no legacy and no resellers they could do the customer buying journey from scratch. They did thousand of interviews, mapping out all the emotions a customer goes through during the purchase of a car. Their great insight was that we hate buying a new car. We love to have one, but we hate buying it. Tesla then went on to construct the buying journey in order to minimize the points and duration where the customer feels frustrated and/or angry. They did this by creating as transparent and swift of a journey as possible. Today as many as 21% can picture themselves buying their next car online and the rest of the automotive industry are forced to follow and start creating journeys for their customers.


It doesn't end with the buying journey though. You also need to consider the software upgrade journey or the recharge of your car. Here a new player has entered NIO, a Chinese brand, that not only offers charging stations but also swappable batteries.


"Focus on the ride not the range" – NIO has designed a journey for the journey.


It is interesting to see products like cars that were used to interact with their customers through the use of their products, so they have the experience, the know-how but now they have to extend it to the digital world. Today there has to be a digital interface, connected to the physical product but also to services like charging infrastructure, SW upgrades, workshops. The car is a small piece of the offering while the journeys are growing in their importance.


SUSTAINABILITY


There is a shift in buying criteria. Tetra Pak always had it. ABB lives by it now it is spreading to all. SUSTAINABILITY.


11 billion USD was invested in Europe in Planet good. One large company was in the paper this week trying to greenwash their products without proof. I talked with the founder of Cleantech Scandinavia. HE stated that the vencap companies and the stock market now see sustainability in a different shade. It is a risk. A company can go under if deemed to act without caring.


The quality of technology in the field with algae, solar technology, energy optimization, but primarily the quality and sincereness of the management is changing.


New measurements are now being established: NetZero and Avoided Impact.


The power change in the world will also have an impact on it. Design for sustainability must be on your agenda if you reach for success!


PERSONALITY


I think we have missed a trend. Something that has been fuelled by Covid and the fact that we are now inviting each other digitally to our homes. Suddenly I have met toolers, cats, spouses that I have never seen before. Also seen bedrooms, home offices, kitchen, living rooms.


That and social media of course make it hard to be one person in the office and another one at home. We now need to build our personality or character, to do as Dolly Parton said:


Figure out who you are and do it on purpose.


Earlier this year we had Shane Hatton at our show talking about "Lead the Room". It was not about making great power points; it was all about building your character and your narrative.


THE PRODUCTBEATS PLAYLIST


To wrap up the show AND the year 2021, we decided to give our product friends a mixtape for product success. You can find it here.


At ProductBeats we have a wide variety of people and personalities, and consequently, we have a wide variety of songs in the playlist. We got everything from, at the time of release, 14-year-old Amy Diamond to music genius Jacob Collier.


When you press play on the list, feel free to shuffle, you will never know what's going to come your way. You might get the latest Italian rock, which will give you the sound of everything and anything, or you might get some tremendously good Instrumental Post Rock.


The unexpectantly and constant surprises are one of the charms of ProductBeats, you don't know what hit you until you are cycling home on a wet and cold December-Tuesday with some "This is how we do it" in the headphones. Just as the bus comes by and splashes you with brown water from a puddle you will realize that everything is a never-ending journey. That this is the end of the beginning and the beginning of the end or is it? Can a never-ending journey have an end? And boom, "Whip it" starts playing and you get energized and start pedaling like there is no tomorrow to try to set an end to this journey at least.


To finish this little text, I will press play on the last song of the playlist, "Vi ses snart igen" or "See you soon again". And I will sit back and relax to the beautiful text in which he sings about Södermalm and Söderort, two city-areas which is south-side of Stockholm, the same areas in which we have our office and where many of us who work here live. I close my eyes, reminisce, and I think, Vi ses snart igen.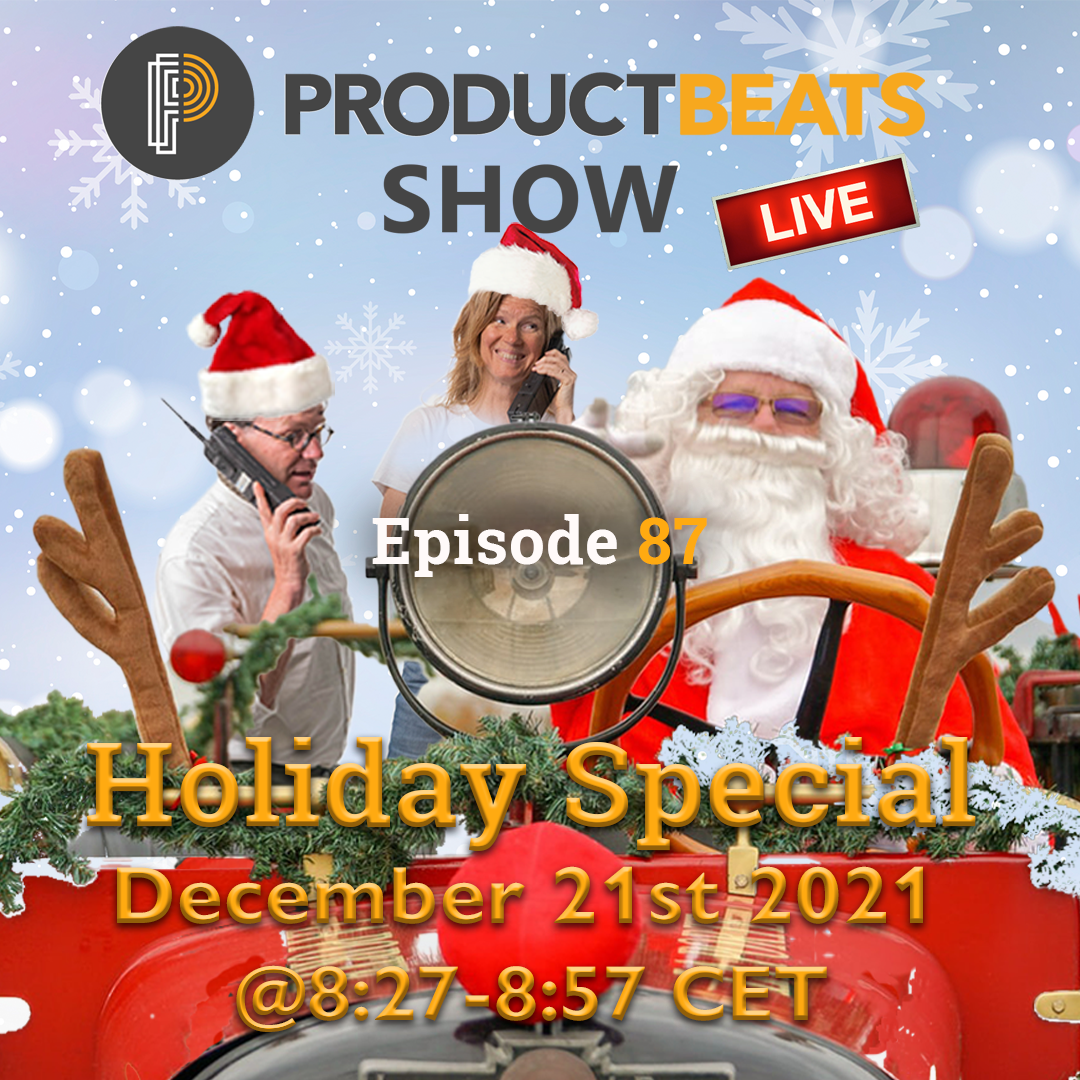 Happy holidays and see you in 2022!
Ready to enjoy this episode?
Stay Informed
We'll continually release new Instant Solutions