How can THE PROGRAM help me?
Insights from learning new ways of thinking will allow you to create new values for your product, expand in your role to benefit your team and company.
Is the Certification test included in THE PROGRAM Fee?
Yes, one test is included, in both online and in-person training.
How many hours are in THE PROGRAM?
Workshops are about three hours long. Self study modules and tests can take ten to twenty hours.
What are the upcoming dates for THE PROGRAM?
You'll find THE PROGRAM dates in The Download.
Can I take the test again, if I fail?
Yes, you can take the test multiple times with an additional cost of 300€ per test and we will administrate that for you.
If I can't join a few workshops, can I retake them later?
The workshops are live. If you miss one, you can read the learning module then prepare the reflection and tasks for the next workshop. If you are sick and miss several workshops, we can rebook you for an upcoming date.
Is THE PROGRAM recognized by Product leaders as a benchmark training?
THE PROGRAM is acknowledged as a benchmark training for Product Managers, internationally. It presents the necessary tools and models, together with a way of thinking, crucial for successful Product Management.
What companies have used THE PROGRAM
Throughout the years, a wide range of companies have participated and benefited from THE PROGRAM; small and large, hardware, software, service organizations and start-ups. We have had individuals and teams from Ericsson, GS1, Learnlinght, Scania, Wabco Würth, Hitachi, Giesecke & Devrient, UN organizations to name a few.
Can you help me find a job afterward?
THE PROGRAM training diploma gives you a platform, place among professional Product Managers. After the training, our knowledge is official and useful to future employers and employment dialogues.
Do you have a network of alumni?
Productbeats is an international network of Product People sharing the latest trends, research, knowledge and conversations. It's up to you to determine the level of participation with our show's guests, alumni and expanding cohort activities.
Product People include Product Managers, Product Owners, Architects, Head of Product. Basically, all experienced product professionals with an interest in or need to increase their product management capability.

What is the advantage of the online sessions?
The possibility to implement new thinking, learnings, and product ideas in your running work over eight weeks with no travel time including the ability to book and take the certification test at a time that suits you are definitely advantages of the online sessions. However, meeting product people from around the world offers invaluable networking opportunities.
What is the advantage of the on-site sessions?
Physical presence offers the possibility for focused time away, spontaneous interactions with other participants, face-to-face networking and sharing in a comfortable environment. You are also able to take the certification test with your new network cheering you on.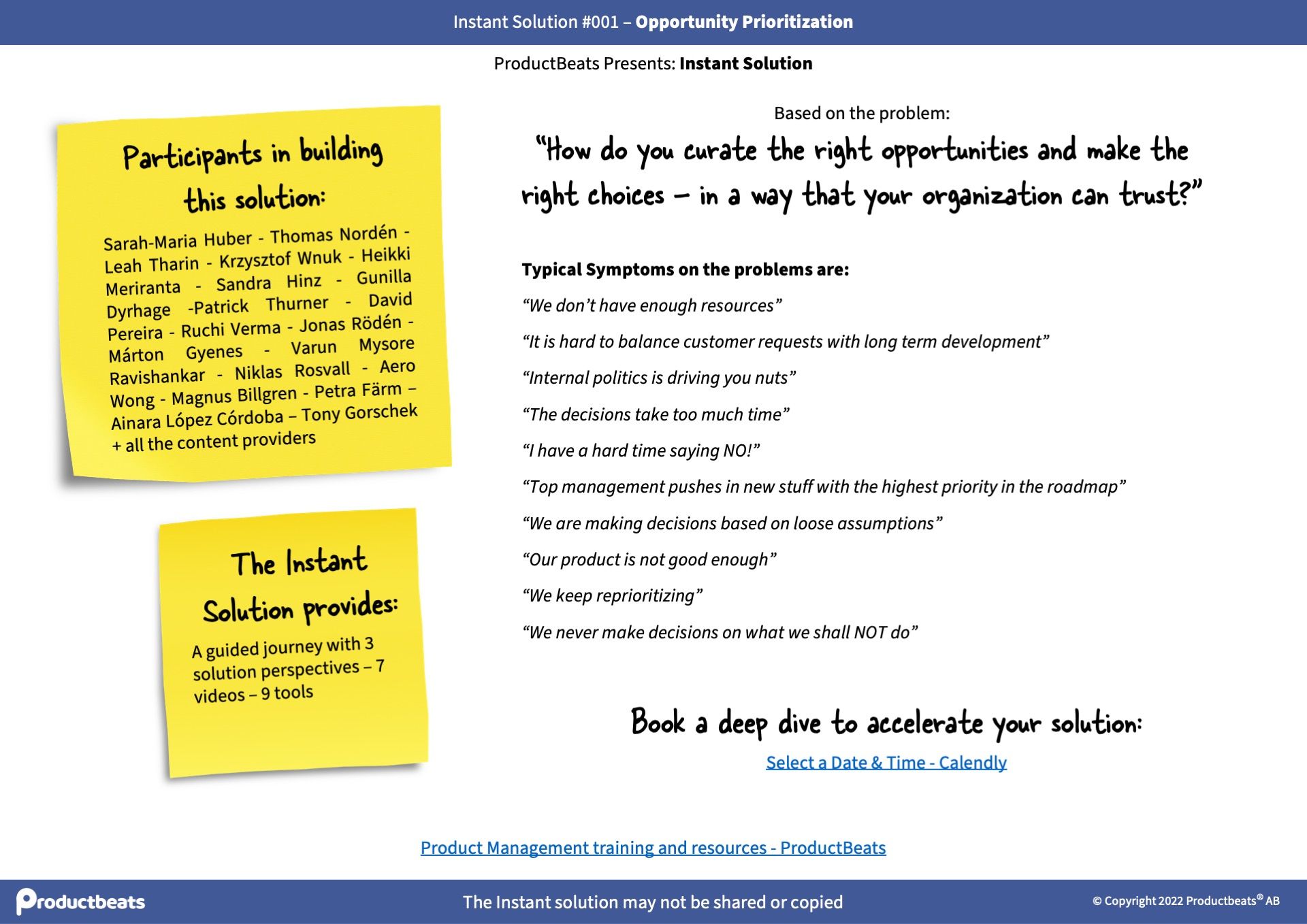 Great to see you here!
Let us bootstrap your career!
Tool #2: Personas
Personas is one of the most basic yet best product management tools. It allows you to achieve an outside in persctive on your product. Often more than one Persona is used for a product. Defining a Buyer Persona and aUser Persona is a typical way of handling it.
Attached are three documents on personas:
An overview of the tool Persona

A short guide in designing Personas from aha.io

A template


REMEMBER: In a changing market you will need to update ypur personas. Otherwise you will make decisions based on obsolete data.
Tool #3: Scenario Planning
Scenario planning is a tool that allows you to get one step ahead of the competition. Instead of focusing on existing requirements in the market, you plan for the change. Scenario thinking is useful in a disruptive market. Especially for major technology shifts or where the fundamentals of the market is radically changed. Normally three or four Scenarios are created. Then you evaluate the likelihood of the scenarios. It is perfect tool to combine with the DIBB-model ((Data > Insights > Belief > Bet). In Scenario context:
Collect relevant Data
Conceptualize you data into Scenarios (Insights)
Make a choice in what Scenario you believe in
Make your bet and plan your actions for the Scenario you are choose


Scenario Thinking can be painful. It requires insightful and analytical individuals to create relevant scenarios. You could start with Lightweight scenarios. Then use the perspective of existing customers and users and create scenarios for them. The use of lightweight scenarios drastically reduces complexity, but it will also reduce the strategic value of scenario planning.


Attached are:
Scenario Tool - description
Scenario Planning - a short description for fast Scenario creation
A review for using Scenario as a tool strategy and development
Driving Forces - the underlying tool for creating Scenarios
Tool #4: Opportunity Scoring
There is never a shortage of ideas or oportunities. But which ones are we to pursue? Can we use some metrics for evaluation? The Opportunity Scoring model is developed by Anthony Ulwick in his work with Outcome Driven Innovation. It is based based on the "Job To Be Done" methodology and how to deliver products that matters. You can use it to evaluate different opportunities based on two dimensions: Customer Importance (for getting the Job Done) and Customer Satisfaction (with his/her existing solution).

By looking at these two diemnsions we can identify Underserved Markets and real opportunities. You can use it to guide discussions and also as a basis for customer research.


Perfect for creating your roadmap and defining the order in your development.


Attached are three objects:
Opportunity scoring overview
Quantifying your customers unmet need ( Opportunity Scoring ODI)
Prioritization Techniques by Daniel Zacarias including Opportunity Scoring
Tool #5: Customer Journey design
2014, rainy November day: I was angry with the Swedish telecom operator TELIA once again. It was hard to be a small company and get the right service and offer. It was not about the price; in fact, I was willing to spend more. But we didn't click. I was looking for other alternatives.
2018, an even rainier November day in Stockholm: I was dancing in the rain. Telia, the notorious Telecom Operator, delivered a proactive and excellent service again. What happened?


In 2016, Telia became obsessed with Customer Experience (The new CEO Helene Barnekow made it happen). The customer journey became a tool they started using. The Telia team had mapped the small company experience, which was filled with pain points. Step by step, they changed the touchpoints and services.


This phenomenal transition was guided by the tool "Customer Journey design". An invaluable tool for all Product Managers to experience the customer perspective


Attached are:
Customer Journey Design tool - Overview
A great description by Sofia Ohlson, Lumoa
Research article on Customer research and Journeys
A presentation by Zornitsa Nikolova, Leanify on how she helöps clients build Customer Journeys
A presentation by Maira Malik on how Tesla has built their Customer Journeys
Tool #6: Minimum Viable Product (MVP)
We have always created prototypes, pilots, Proof of Concepts. Still, the MVP-thinking changed everything. The MVP is not an isolated activity or a prototype; it is a part of a bigger picture. The picture of speeding up product development based on insights. The MVP plays a vital role in the learning process. We need to understand the customer and stakeholder response.

MVP is a tool for feedback. This is vital for the usage of the MVP. It is not primarily a commercial product but a tool for feedback. The MVP generates a solid foundation to discuss and gather relevant feedback from users. Traditional prototypes focus on testing product functionality and technology. The MVP tests the critical components of your product business.
To achieve this, you need to challenge what MVP you are building. It can be an algorithm, a process, a price list, or the delivery of your product.


The MVP thinking gained traction from the book "Lean Startup" by Eric Ries. It is today used widely but not optimally.
Rethink and challenge the way you use MVP in your company. Are you testing the critical stuff in your business? Have you built a functional feedback loop?


Attached are:
MVP overview
Extensive presentation by Eric Ries on MVP
Puttin the MVP into a context and establishing a terminology