Bring forward your "A" game with the Tolpagorni Training Program
In short:
As a Product Manager, you are the leader, harnessing your vision
to motivate others, leading them to success. Build upon
your core competency by acquiring a toolbox of skills and
knowledge to grow your product management career.
What you get:
The Certification Program will not only strengthen your role as
a Product Manager/Owner but also build your confidence and
improve the skills needed to orchestrate your product to success.
For your career:
After the 8-session program, you can write the certification
exam, given by an independent organization and included in
the fee. Upon successful completion of the program, you will
achieve the industry-recognized ISPMA Certification, significantly
boosting your CV.
Our attendees love the program!
Alexandra Silvertörn
Product Area Manager
"Coming with a background in other business development methodologies, I was able to appreciate more of the nuances presented by the ISPMA framework.


The tools I learned through ISPMA enabled me to further develop long-term strategies and provide new
added value."
Fredrik Sandberg
VP Products
"I have attended several training sessions and seminars at Tolpagorni and always found them both insightful and valuable.


You are often quite alone in your role as a product manager and being able to discuss with others facing similar challenges."
Nadeem Hossain
Product Manager
"I gained a solid understanding on the fundamentals of Product Management which I have been able to carry into my daily work.


The program was very insightful and provides one with great frameworks, tools and examples. Overall, I would say the program has accelerated my role as a Product Manager."
Vesela Pavkovic
Product Strategist
"The ISPMA program reaffirmed the foundations of the role and helped me realise untapped potential.

The program motivated me to go beyond the typical role of a PM, and I was able to move from orchestrating development to working more with product strategies."
About the Tolpagorni Training Program
We see how customer needs are growing in complexity. Our products should not just follow, they must evolve out of complexity. We need to leverage ecosystems correctly to pack value and reduce complexity. This is your responsibility as a Product Manager, and you need to lead your team to achieve the success of the product. So how do you do it?
When you strive to be at your
'A' game
, it's crucial to not only master tool and methods. You need a solid knowledge platform; something to take with you as a lifelong companion that you can refer to throughout your product management journey. Our certification program has been redesigned from the ground up to accomplish exactly this; provide tools, methods and a source of inspiration you can carry forward.
Our program is centred around Product Thinking, a more holistic approach reflecting the complexity and interconnectedness of modern times that you as a Product Manager will face. With the program you will gain the foundations needed for a modern Product Manager to succeeded and develop future opportunities for personal growth. The program is accredited by ISPMA, a global non-profit association of over 70 companies and research institutes, and the certification exam is instituted by an independent third party.
The training program provides you with the necessary tools, models, and a way of thinking crucial for successful Product Management. You will build understanding for and reflect upon the vast opportunities that lay ahead, standing on a firm platform of knowledge from the program.
In addition, the ISPMA certification is globally recognized and often used as a way to signal potential employers a level of competence that is required in today's complex environments. Further, certificated ISPMA members participate in local chapters, enabling the opportunity to network with like-minded peers and establish future avenues of growth. Finally, the knowledge and frameworks learned through the certification program will enable you to develop an effective toolbox that you can confidently carry forward into any situation.
Product Thinking for successful Product Management.
A firm platform of knowledge to carry forward.
Accelerate your performance as a Product Manager.

After the program, you will be ready to take the certification exam, which is included in the fee. Upon successful completion of the program, you will achieve the industry-recognized ISPMA Certification, significantly boosting your CV.
The ISPMA Certification program is based on the ISPMA Syllabus 2.0 covering the common areas for Product Management:
Introduction and Product management foundations
Product strategy and Business aspects
Product planning
Strategic Management
Orchestration
The program set-up has been updated from 2021 and we will also cover:
Compliance Management (in Strategic Management)
Alternative product planning approaches (in Product Planning)
Customer Insight (in Product Planning)
Architecture & SPM (in Orchestration of Development)
Our ISPMA Certified Product Manager program is delivered through a digital format utilizing a series of online collaboration tools. The program runs over four weeks, with two sessions per week and consists of 23 hours of instructor lead sessions in addition to self-learning activities with videos, articles etc.

Upon completion of the program, a certification exam will be administered by an independent third-party affording participants ISPMA certification if the exam is passed; previous attendees of our certification program have had a 97% success rate on the certification exam.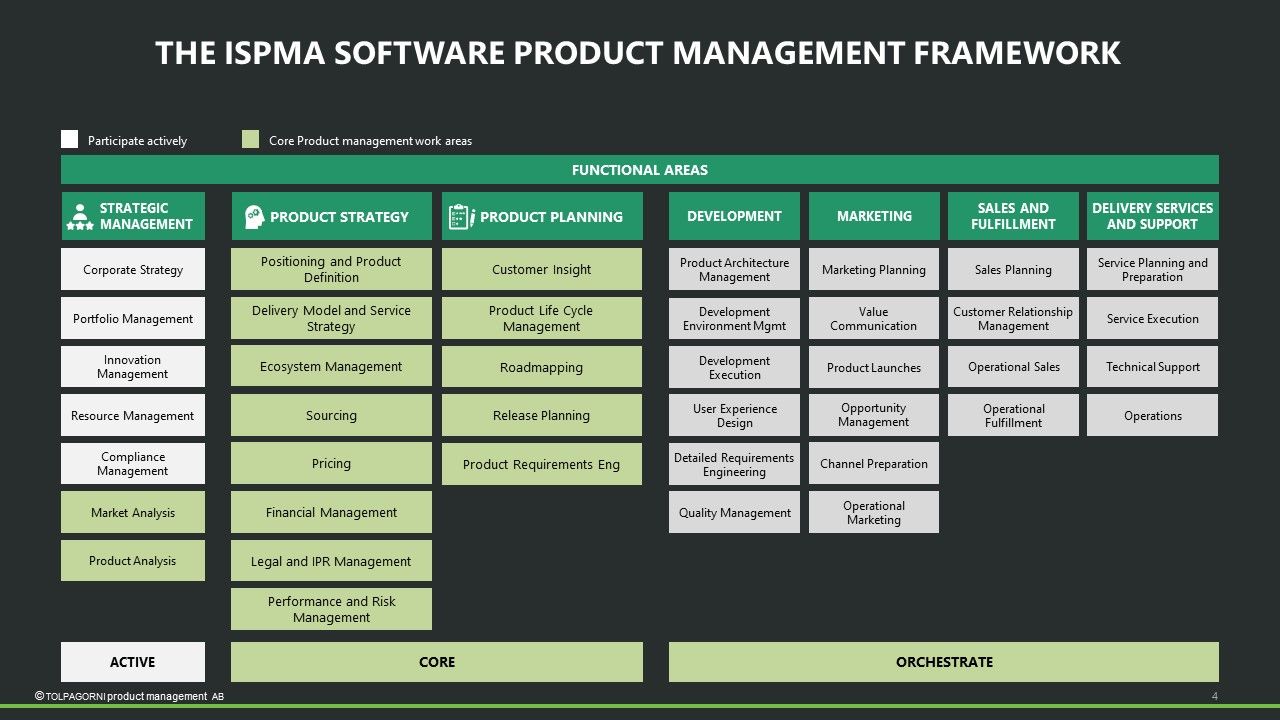 torbjorn.hojer@tolpagorni.com
+46 709 518 019
Petra Färm
Magnus Billgren
Henrik Johnsson
We have a dedicated team of three instructors that run our ISPMA training program. Together they represent expertise in the fields of Automotive Manufacturing, Bio-Tech and Life Sciences, Electronic Manufacturing, Fin-Tech and Financial Services, IT Consulting and Services, Media and Entertainment, Pharmaceuticals, Telecommunications, and more.
But sometimes we fill up with inspiration from others. Periodically, external guest speakers are brought in like Adrienne Tan (Australia), Ken Sandy (US), Rich Mironov (US), and Roman Pichler (Germany/UK).
We are a specialist company in the area of Product Management. We know how to create and manage products. To work with us you will need to plan for success. We turn your strategy into successful products!

Our product management Toolbox is well equipped and we know how to make use of the tools. We have found the secrets for massive market success. We will share our knowledge and you will design the right products and ensure their success in the market – that is what Product management is about. We even offer a guarantee to our work! If you are not satisfied - you do not pay.

Our mission is to increase the average salary for Product Managers. In order to achieve that we need to increase and prove the value of Product Management.
The International Software Product Management Association (ISPMA) is an open non-profit association of experts, companies, and research institutes with the goal to foster software product management excellence across industries.
ISPMA establishes software product management as a discipline in both academia and industry, and disseminates and maintains a Curriculum and a Certifiable Body of Knowledge (SPMBOK).


The SPMBOK is documented in syllabi that are the basis for training courses and certification exams. All syllabi are available for free. Training courses can be offered by commercial training providers and universities. Certification exams are conducted by independent certification agencies that issue the certificates on behalf of ISPMA.


ISPMA also provides a platform for communication and exchange between its members, be it on conferences, in workshops and working groups, or on the internet.
They trust us and we love working with them
Does your product have great potential? Are you short on funding or resources but strive to succeed? There are many Product People with an ambition to become better Product Leaders. And companies, such as start-ups or larger organizations with untapped potential, pushing to develop their capabilities and business.
Tolpagorni has set out to help those without the financial strength to push good product people into the great arena by establishing a scholarship that will cover up to 75% of the costs for an ISPMA certification.


If you find one of those situations is applicable, you can apply to the Tolpagorni scholarship for the ISPMA Certified Product Manager program. If you meet the following criteria you may submit an application for the scholarship:
You must either work in a start-up or a part of a business lacking enough capital.

You have limited experience in Product Management or have experience from another product-related role.

Further, you must see the great potential of your product or you need to revitalize your product.


If you meet the specified criteria you can fill out the form below and we will get back to you.
Scholarship Application
Thank you, we will get back too you!
Contact us
torbjorn.hojer@tolpagorni.com
+46 709 518 019
Address
Office hours
Monday-Friday
9:00am - 5:00pm


Book a meeting for more info:
https://calendly.com/torbjorn-hojer/web_meeting

Feel free to email us during out of office hours.
We look forward hearing from you!
Don't miss to sign up for the ProductBeats Show, follow product leaders with expert thoughts.

Every Tuesday 8.27 - 8.57 AM CEST
Created with