Ericsson: High Performance Product Management
Specific program for Strategic Product Managers and similar positions in Ericsson.
Some product managers are able to continuously achieve fantastic outcomes while others continue to struggle. Is it just luck? Or maybe they have identified the secrets of Great Product Management! We state they have reached the level of High Performance Product Management, enabling them to direct the organizational power into their products and services. Learn from success and failures, get tools, build knowledge and reach for High Performance Product Management.

ABOUT THE PROGRAM

Connecting the Dots
Master the ability to craft products that truly resonate with your customers
Acquire the capabilities to explore new Product Strategies to future proof your business
Understand the market; leverage new ways to develop insights and position your products for success
Learn to orchestrate beyond your teams, beyond your enterprise and gain an industry wide prospective

Content
Leverage market insights to craft Executable Strategies
Create effective Value Propositions to grow your Product beyond
Utilize Design Thinking techniques to governing your Product teams
Re-examine Business Models through a variety of tools to ensure your solving the right problems

Program Design
This is not your typical training; we utilize a full 360-degree framework from the start.
We spread out the course over a month, to minimize disruption to your daily activities.
Post-program, you maintain access to a peer-to-peer support team as well as personal coaching.

Collaborating Your Future
Gain access to a dedicated Tolpagorni mentor for personalized coaching
Develop a long-lasting professional network that you can carry forward

Registration
Registration in ITM/ Learning. Always remember to get confirmation from your manager before signing up for any courses.
Designed For
Product managers

Product Directors

Business Development

Trainers
The training is provided by Tolpagorni Product Management, a specialist company focusing on High Tech Product Management. Magnus Billgren, founder of Tolpagorni®, creator of the "High-Performance Product Management Model", founding member and fellow at International Software Product Management Association, is a specialist in high tech product management.
Ph.D. Petra Färm, a Strategic Product Expert and Technology strategist at Tolpagorni® with experience from Designing, Developing and rolling out products in deep technology arenas. She has a PhD in electronics and research experience from Royal Institute of Technology (Stockholm) and CadenceLab Berkeley. She is one of the creators of the Product SoundTrack and SpeedLayer Concept.
Adrienne Tan, co-founder of Brainmates, a foundation of the Product Management world. She brings design thinking into the Product Management way of working. One of the world's most influential Product Management Experts, for a reason.
Prof. Dr. Dr. Tony Gorschek, BTH is ranked as number one in Europe and number six in the world when it comes to research in Software Development. Tony is one of the main reasons for this. He is a specialist in Value driven development. He is connecting research with his pragmatic experiences from running five companies.and
Jonatan Stenson, Rock star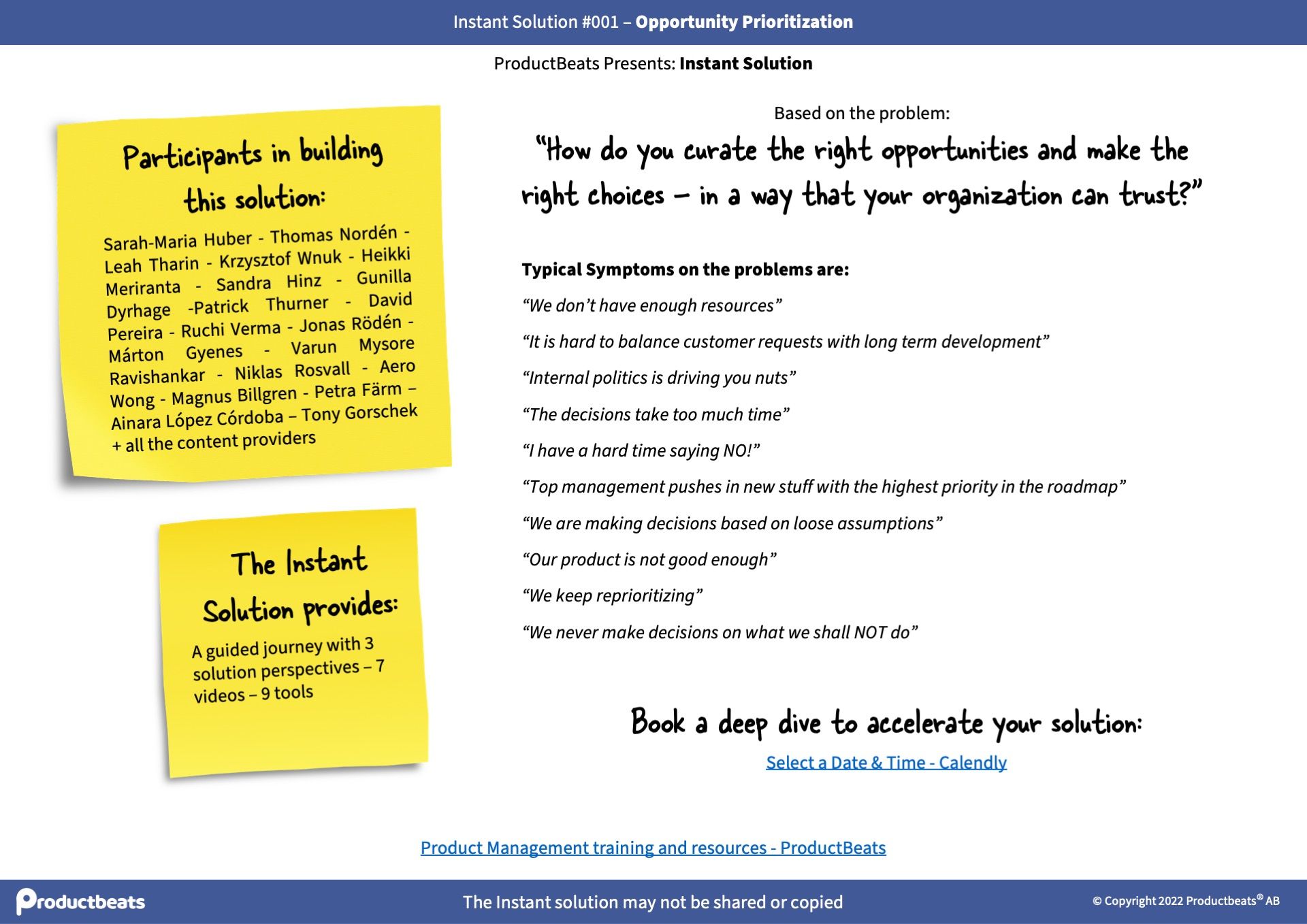 Great to see you here!
Let us bootstrap your career!
Tool #2: Personas
Personas is one of the most basic yet best product management tools. It allows you to achieve an outside in persctive on your product. Often more than one Persona is used for a product. Defining a Buyer Persona and aUser Persona is a typical way of handling it.
Attached are three documents on personas:
An overview of the tool Persona

A short guide in designing Personas from aha.io

A template


REMEMBER: In a changing market you will need to update ypur personas. Otherwise you will make decisions based on obsolete data.
Tool #3: Scenario Planning
Scenario planning is a tool that allows you to get one step ahead of the competition. Instead of focusing on existing requirements in the market, you plan for the change. Scenario thinking is useful in a disruptive market. Especially for major technology shifts or where the fundamentals of the market is radically changed. Normally three or four Scenarios are created. Then you evaluate the likelihood of the scenarios. It is perfect tool to combine with the DIBB-model ((Data > Insights > Belief > Bet). In Scenario context:
Collect relevant Data
Conceptualize you data into Scenarios (Insights)
Make a choice in what Scenario you believe in
Make your bet and plan your actions for the Scenario you are choose


Scenario Thinking can be painful. It requires insightful and analytical individuals to create relevant scenarios. You could start with Lightweight scenarios. Then use the perspective of existing customers and users and create scenarios for them. The use of lightweight scenarios drastically reduces complexity, but it will also reduce the strategic value of scenario planning.


Attached are:
Scenario Tool - description
Scenario Planning - a short description for fast Scenario creation
A review for using Scenario as a tool strategy and development
Driving Forces - the underlying tool for creating Scenarios
Tool #4: Opportunity Scoring
There is never a shortage of ideas or oportunities. But which ones are we to pursue? Can we use some metrics for evaluation? The Opportunity Scoring model is developed by Anthony Ulwick in his work with Outcome Driven Innovation. It is based based on the "Job To Be Done" methodology and how to deliver products that matters. You can use it to evaluate different opportunities based on two dimensions: Customer Importance (for getting the Job Done) and Customer Satisfaction (with his/her existing solution).

By looking at these two diemnsions we can identify Underserved Markets and real opportunities. You can use it to guide discussions and also as a basis for customer research.


Perfect for creating your roadmap and defining the order in your development.


Attached are three objects:
Opportunity scoring overview
Quantifying your customers unmet need ( Opportunity Scoring ODI)
Prioritization Techniques by Daniel Zacarias including Opportunity Scoring
Tool #5: Customer Journey design
2014, rainy November day: I was angry with the Swedish telecom operator TELIA once again. It was hard to be a small company and get the right service and offer. It was not about the price; in fact, I was willing to spend more. But we didn't click. I was looking for other alternatives.
2018, an even rainier November day in Stockholm: I was dancing in the rain. Telia, the notorious Telecom Operator, delivered a proactive and excellent service again. What happened?


In 2016, Telia became obsessed with Customer Experience (The new CEO Helene Barnekow made it happen). The customer journey became a tool they started using. The Telia team had mapped the small company experience, which was filled with pain points. Step by step, they changed the touchpoints and services.


This phenomenal transition was guided by the tool "Customer Journey design". An invaluable tool for all Product Managers to experience the customer perspective


Attached are:
Customer Journey Design tool - Overview
A great description by Sofia Ohlson, Lumoa
Research article on Customer research and Journeys
A presentation by Zornitsa Nikolova, Leanify on how she helöps clients build Customer Journeys
A presentation by Maira Malik on how Tesla has built their Customer Journeys