Tool #30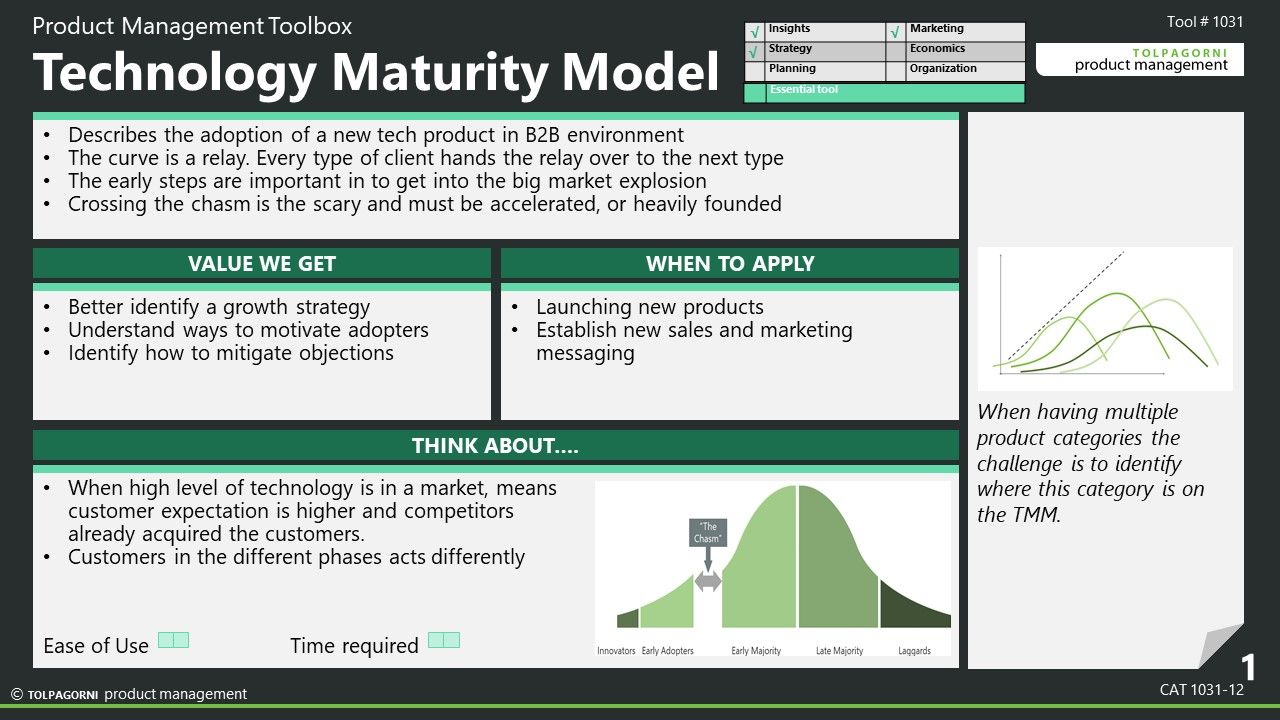 My good friend Christopher Engman the author of the book MEGADEALS, loves the Technology Maturity Model. "It is almost the only tool you need to be successful," he claims. He should know. He has built numerous companies and has used the model as a foundation for how to grow a company.

Christopher and his success inspire me. In multiple customer projects, we have used the model to:
Creating the right product
Evolving the right service level
Building the right marketing communication
Organizing product management
Establishing Ecosystem strategies

The model describes how a market adopts new technology and how customers act differently in different phases. Remember that they do not just behave differently; they also have different expectations on your deliveries.

To accelerate your growth, you need to provide different service levels at the different stages and suitably package your offering. Our friends at the Chasm Institute often talk about the concept of the "Whole Product" and how it emerges through adopting the new technology.

Over the last years, we have helped companies evolve their organization according to the adoption model. In the early stages, we need a different set of metrics and teams. And as the product matures, we need a different set of organizational capabilities.

I agree with Christopher Engman, the successful Swedish Entrepreneur, that the Technology Maturity Model is one of the most versatile and useful TOOLs for creating product strategies.
Empty space, drag to resize
Empty space, drag to resize
Oops, looks like you're not logged in!
Log in in order to access the tool!
Stay Informed
We'll continually release new Instant Solutions
Get The Program Brochure
Submit the form below to have The Program Brochure delivered to your inbox
Sign in or sign up
To get access to all the tools and the show archive.