Tool #15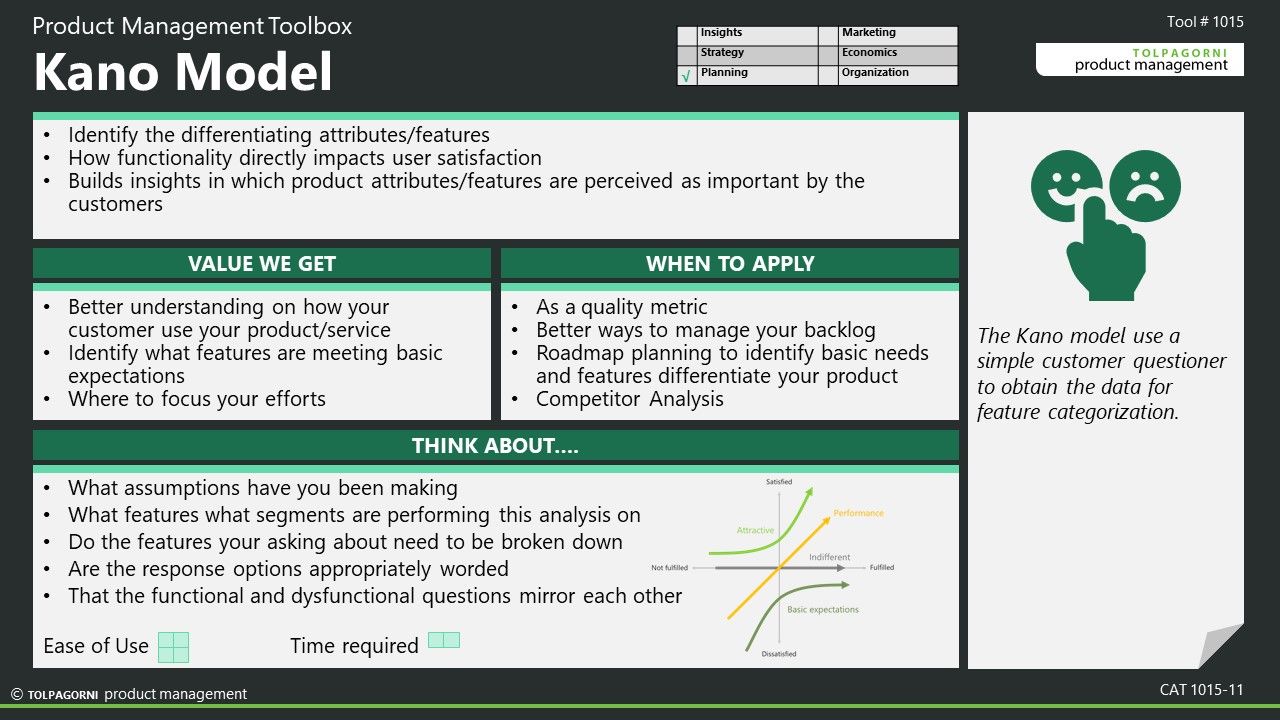 The Kano Model is one of those tools we hear about and for many Product Mangers it makes sense; but it doesn't seem to be so widespread in terms of its application within the Product community, why is that?

In the simplest sense the Kano Model starts with a survey, based on a 5-point Likert scale, that is sent out to the users. The survey covers two simple questions; How would you feel if the product had that feature, and How would you feel if the product didn't have that feature. And that's it, nothing more...

Well not quite, the interesting part comes into play when you begin to analyze the responses, you can plot them on the famous Satisfaction vs Functionality graph. Keep in mind at this point your only dealing with a snapshot, the world is not static and user's needs are always evolving; before 2007 touchscreens on phones were an attractive feature, and now they are a must.

Moving on, another way you can analyze the responses is through an Evaluation table and from that create a scoring system that you can use to prioritize development, investments, or guide marketing efforts.

This was a very simplified presentation, check out the attached document Kano Model for Product Managers or Kano Model to Prioritize Product Development, both give a high-level overview and highlight some particle uses for Product Managers. The Kano Model Complete Guide gives a more detailed overview and has several examples that you can walk through.

So, going back to our original question, as a Product Person do you use the Kano Model? Why/Why Not?
Empty space, drag to resize
Empty space, drag to resize
Oops, looks like you're not logged in!
Log in in order to access the tool!
Stay Informed
We'll continually release new Instant Solutions
Get The Program Brochure
Submit the form below to have The Program Brochure delivered to your inbox
Sign in or sign up
To get access to all the tools and the show archive.