Tool #24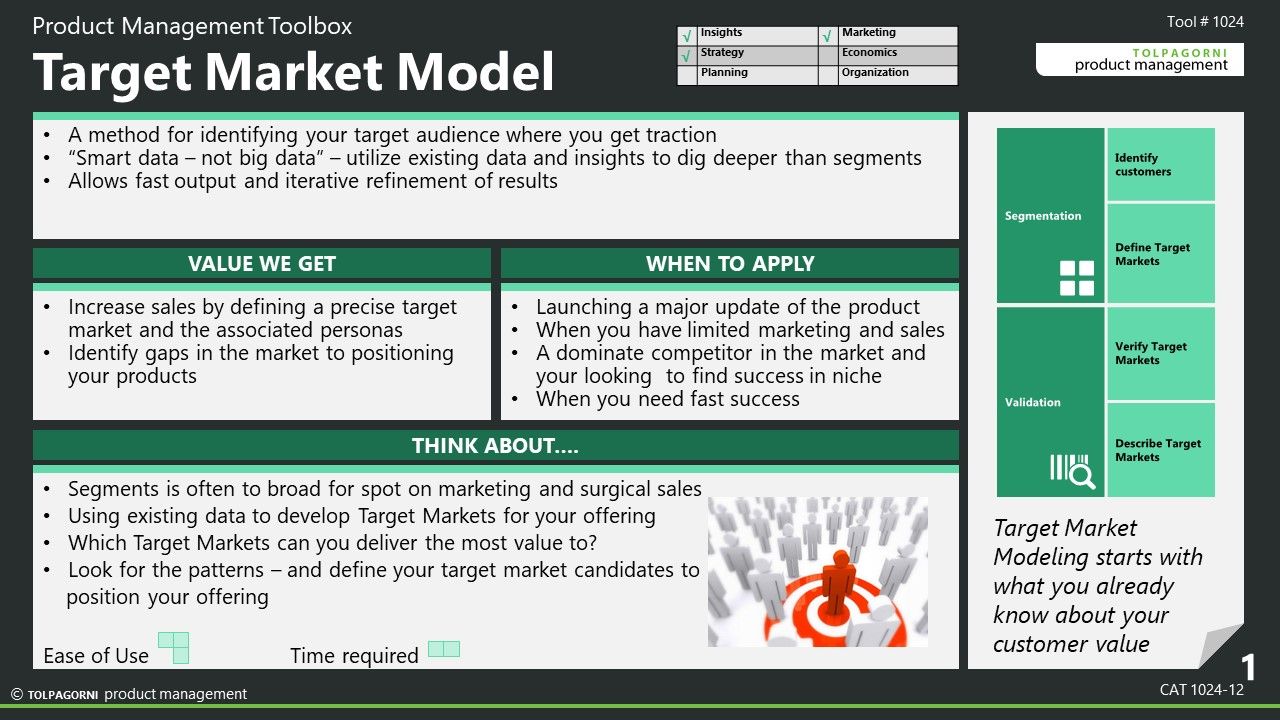 Let me share two widespread situations I have encountered:

1. No plan for market traction
The launch is coming closer. The marketing team and the sales managers are all involved in making it a success. But how are you to guide them towards the right prospects?
In the discussion, it becomes apparent that we have not defined how to get traction in the market. Who shall be our first customers? For whom are we to design the marketing?
2. Wrong customer
Once again, I am frustrated that the sales organization has sold the Product to the "wrong" customer. Sure we deliver Value, but it is limited to that particular type of user. Why haven't sales identified the right customers to invest in?

Both these cases can be solved with the Target Market Model. The Target Market Model is an accelerated model to define where to invest in your Product's marketing and sales. Often, in your company, you have chosen segments to work within. Often characterized by traditional demographics like geography, industry, age, or similar. The Target Market Model is a smart data model where we focus on existing experience and data and then connecting it with the Value of the new Product.

The Target Market Model will quickly (within a week) identify the clients who receive the most substantial Value from your new offering. In fact, we have conducted workshops and have composed the Target Market discovery within 3h.

The document below, "Target Market Model - Value Engineering," explains the model and its use.

A more traditional but slower model is called STP - Segment - Target - Position. In this model, You focus and break down the segments to a target market. See the document "STP model" - below.
Empty space, drag to resize
Empty space, drag to resize
Oops, looks like you're not logged in!
Log in in order to access the tool!
Stay Informed
We'll continually release new Instant Solutions
Get The Program Brochure
Submit the form below to have The Program Brochure delivered to your inbox
Sign in or sign up
To get access to all the tools and the show archive.