Tool #27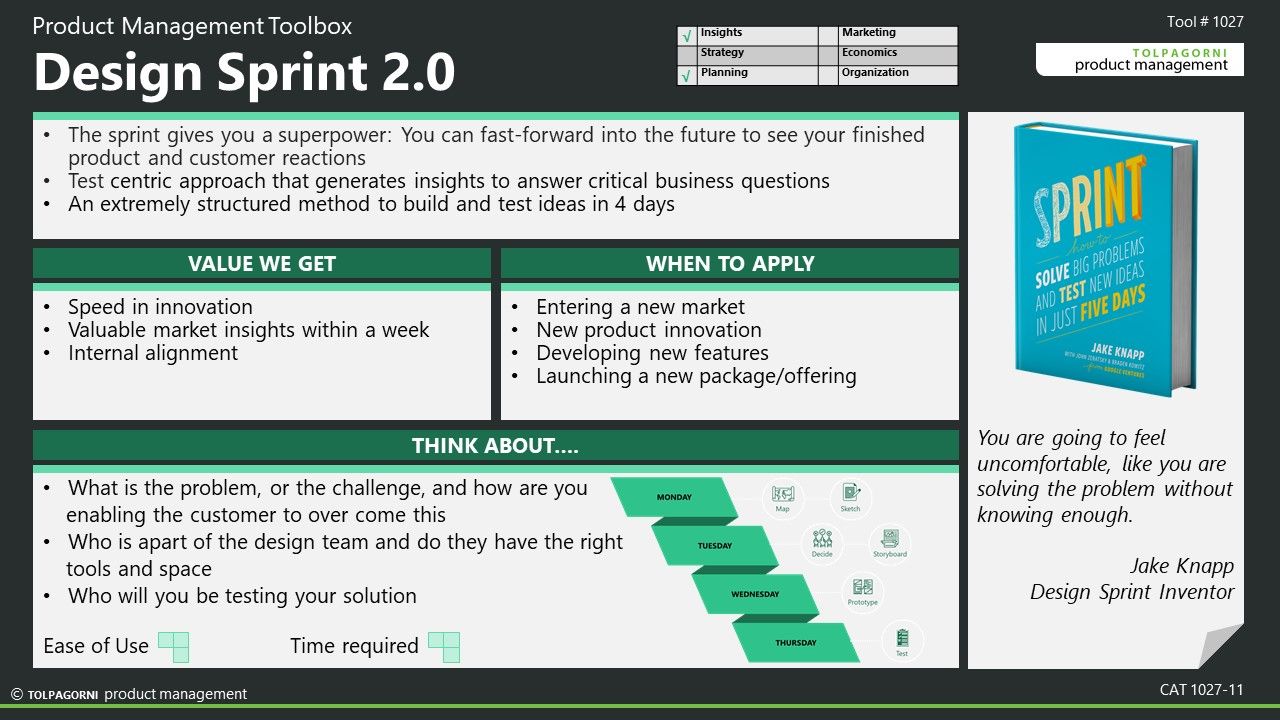 We have been taught that quality needs time. However, some processes need focus to reach quality. The Design Sprint is built on FOCUS and delivers quality in an accelerated manner. The key to success lies in the intense collaboration between participants. The Design Sprint is a structured format over 4-5 days. Everyone who has been involved in Design Sprints is amazed. We can create great stuff in just a few days.

The output from the design sprint can be used to initiate a development activity, change the direction of a product, or add more input to ongoing work. It can be applied to new ideas or evolving an existing product (which will be more challenging.)

There are three significant risks in running a design sprint:
Getting the right people involved and receiving their undivided attention for the sprint - the right people are often occupied
Setting the starting point for the sprint - A design Sprint can quickly run into the wrong direction
The moderation of the process - disciplined guidance with energy and enthusiasm is needed

The concept of a Design Sprint can be applied in multiple activities. At Uber, the use of sprints for creating Market Insights. In one of the attached documents, it is used for brand positioning.

The fantastic book by Jake Knapp is a must for everyone who plans to run a Design Sprint. Numerous youtube movies will also guide you in the process.
Empty space, drag to resize
Empty space, drag to resize
Oops, looks like you're not logged in!
Log in in order to access the tool!
Stay Informed
We'll continually release new Instant Solutions
Get The Program Brochure
Submit the form below to have The Program Brochure delivered to your inbox
Sign in or sign up
To get access to all the tools and the show archive.