Tool #33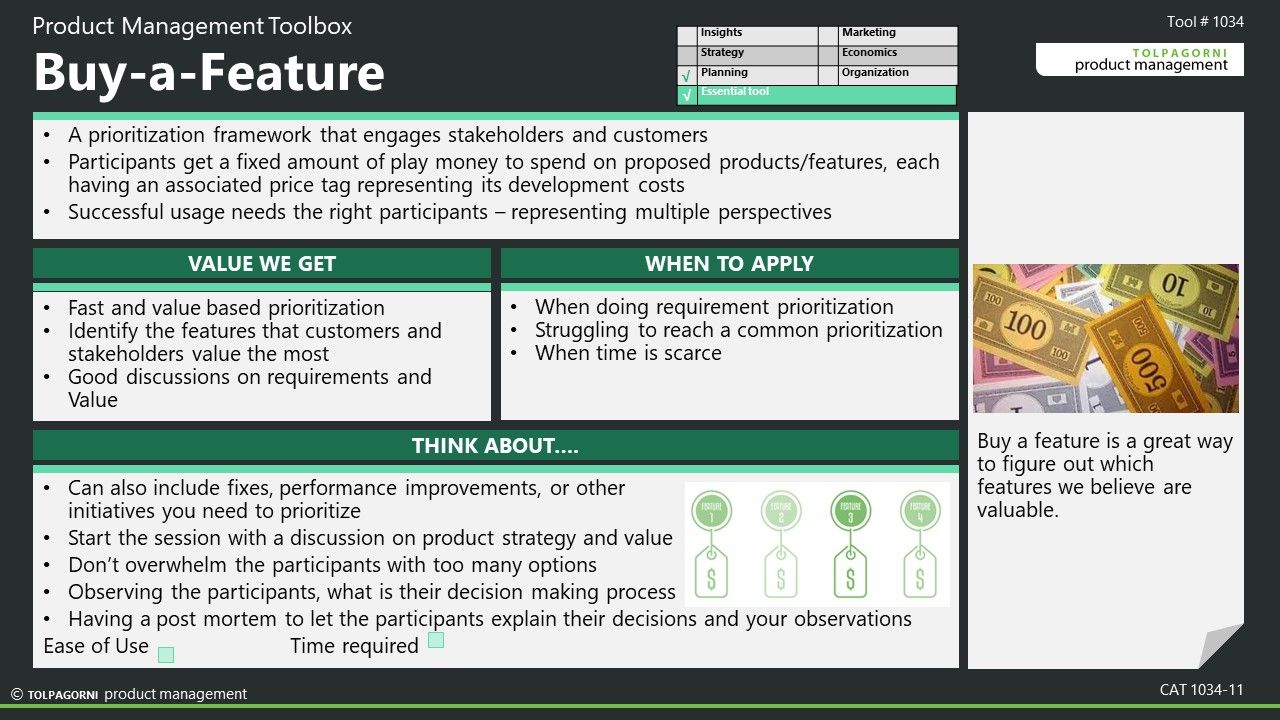 We all know that it is easier and faster to get an idea than to develop it. So hopefully, you have more requirements and ideas than you have resources. (If you have enough development resources, that means you have no ideas!)

There are many different ways to prioritize product requirements. We have conducted numerous tests on the impact of prioritization models. They have a direct effect on the result. Depending on what type of model you use, the end result will vary. Hence, the choice of a model you use for prioritization directly impacts the product your offering. Make your choice carefully.

The model Buy-a-Feature has many advantages. It is easy to work with, it is fast, it forces you to prioritize. Three crucial challenges are facing the usage of it:
1. Wrong team
I have often seen a team of developers using the model. The problem might be that they do not possess the right domain knowledge or the market insights necessary. Hopefully, they bring in a person with market insights. But if this person gets the same amount of money as the other ones, the result is equally bad. Secure that you have an excellent team participating in the exercise representing different perspectives.
2. Where is the strategy?
In all prioritization models, we must make syúre that the strategy is present in the process. In the "Buy-a-Feature" model, the strategy is not part of the model; it must be a part of the participants thinking. Before you get started with the work, have a discussion on your product strategy and the objectives.
3. Jack of all trades
There is a risk that we end up doing a little bit of everything instead of becoming the best in an area. The math and gaming theory behind the model drives the work into compromises. Compromises rarely make the product excel in the marketplace. There is a risk that we get stuck in the middle.

Whatever model you use, do not let the model make the decision. They will support your choices, but you are to make them.
Empty space, drag to resize
Empty space, drag to resize
Oops, looks like you're not logged in!
Log in in order to access the tool!
Stay Informed
We'll continually release new Instant Solutions
Get The Program Brochure
Submit the form below to have The Program Brochure delivered to your inbox
Sign in or sign up
To get access to all the tools and the show archive.