Episode 62: Product Gravity w/Richard Cranefield
15 June, 2021 / Host: MAGNUS BILLGREN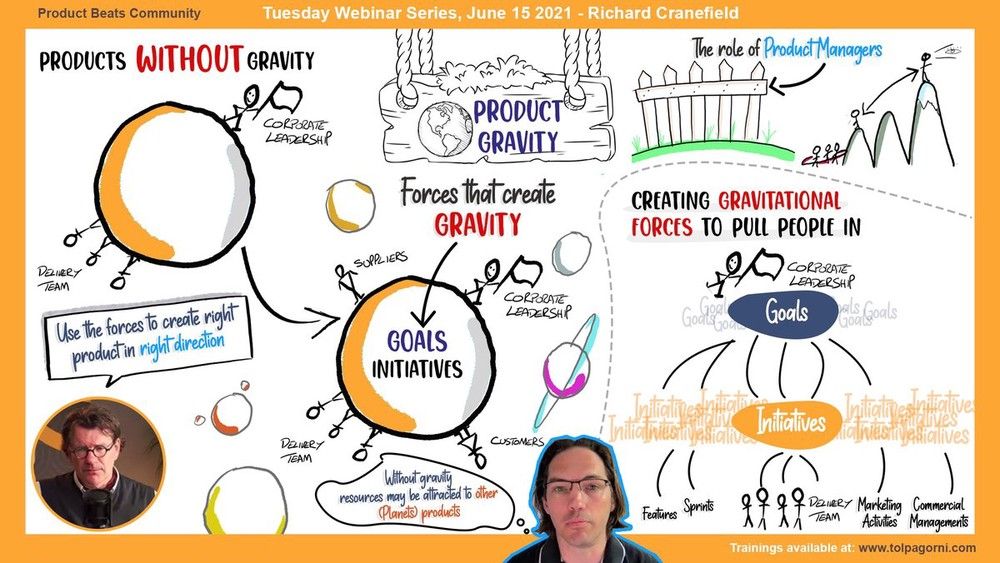 Aligning Corporate Strategy and Product Initiatives for Success
In the fast-paced world of product management, the challenge of aligning corporate strategy with product initiatives often arises. Richard Cranefield, the founder of Authentic Strategy Co., has introduced a concept called "Product Gravity" that advocates leveraging internal forces within organizations to drive success. In this article, we delve into Cranefield's insights and explore how product managers can create a powerful gravitational pull for their products by aligning goals, initiatives, and strategies.
Understanding Product Gravity
Product Gravity is a concept that emphasizes the creation of internal forces that draw people and resources towards a product. It serves as a means to overcome
the disconnection between corporate strategy and product development
. By harnessing Product Gravity, product managers can align their products with the overarching strategic direction of the company, making them more attractive and impactful.
The Role of Product Managers as Forces of Unity
Product managers are often described as the horizontal bar and white picket fence that holds various verticals of an organization together.
They act as scouts
, translating the vision from corporate leadership and connecting it with the teams responsible for product development. The challenge lies in effectively bridging the gap between long-term vision and daily work.
Creating Forces of Attraction: Goals and Initiatives
To establish alignment between corporate strategy and product development, product managers must set measurable targets that connect their product capabilities to the realization of the company's strategic goals. This involves engaging in a two-way dialogue with the corporate leadership, understanding how the product can contribute to the strategy, and identifying potential influences the product may have on shaping the company's direction.
The Link between Profit and Purpose
Product managers need to pair profit maximization with purpose maximization. By aligning the purpose and goals of their products with the broader company strategy, they create a gravitational pull that attracts attention, resources, and support. This approach not only highlights the importance of profitability but also emphasizes the positive impact and transformative nature of products.
Unleashing the Power of Product Gravity
Spotting detached goals early is crucial for
ensuring alignment and effort within product teams
. By monitoring progress and identifying goals that are not being actively pursued, product managers can realign their teams' efforts to stay on track. Additionally, by discovering hidden efforts that are not aligned with specific initiatives, product managers can reassess their purpose and ensure that all work is contributing meaningfully to the overall strategy.
Takeaways
Align product goals and initiatives with the corporate strategy: By setting measurable targets that connect product capabilities to the overall strategic goals of the company, product managers can create alignment and attract resources and support.

Connect profit with purpose: Pairing profit maximization with purpose maximization allows product managers to highlight the positive impact and transformative nature of their products, creating a gravitational pull that makes their products more attractive and meaningful.

Spot and address disconnected goals and efforts: Regularly monitoring progress and identifying detached goals or efforts that do not align with specific initiatives enables product managers to realign teams' efforts and ensure that all work contributes meaningfully to the overall strategy.
Speaking of driving success in product management, if you're looking to enhance your skills and take your career to the next level, consider
The Productbeats Product Management Certification Program
. Designed to equip aspiring and seasoned product managers with the knowledge and expertise needed to excel in the dynamic world of product management, this program offers comprehensive training, practical insights, and valuable resources. Whether you're seeking to expand your strategic mindset, master the art of product development, or sharpen your leadership skills, The Productbeats Certification Program provides a transformative learning experience. Don't miss this opportunity to become a certified product management professional and unlock new opportunities in your career.
You might also enjoy watching...
Stay Informed
We'll continually release new Instant Solutions
Get The Program Brochure
Submit the form below to have The Program Brochure delivered to your inbox
Sign in or sign up
To get access to all the tools and the show archive.