Episode 23: Philosophy and Product Thinking w/Magnus Billgren
1 September, 2020 / Host: PETRA FÄRM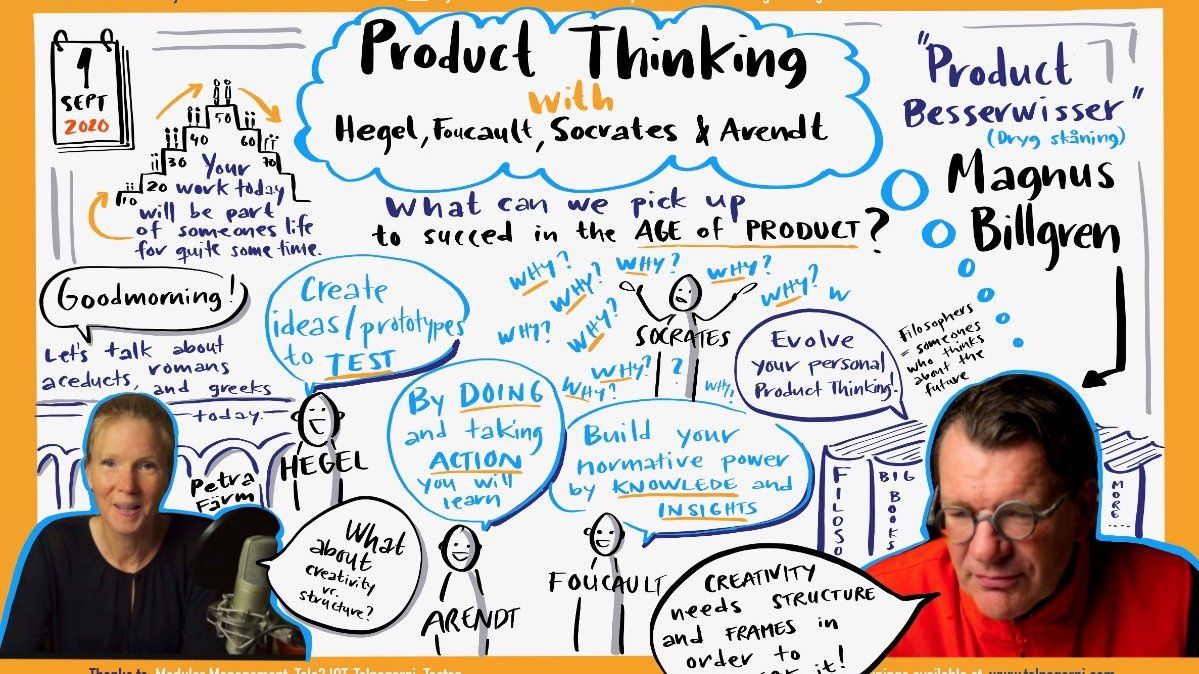 Philosophy and Product Thinking
In this episode of The Productbeats Show, Magnus Billgren, shares his insights on the evolution of product management and how excellent product management is led by product thinking. In this article, we'll take a look at some of the key takeaways from the episode.
The Age of Products: An Explosion in Product Management
Billgren kicked off the episode by reflecting on the massive growth of product management in the past decade. "Ten years ago, there were around 4,000 to 5,000 most important managers in Sweden. Today, we can make an estimation of around 50,000 product people in different roles with different titles," he shared. This explosion in the concept of product management is due to the desire to scale, which has made product management a popular field to work in.
The Limitations of Tools and Models
While
tools and models
have played a crucial role in the growth of product management, Billgren cautions that they're not enough to create truly groundbreaking products. "The problem is that these tools and models won't be able to map or automatically create your next product success," he said. "To create truly great, sustainable, and loved products, you'll need to do a little bit more thinking. You'll need to place product thinking at the center of your work."
The Importance of Product Thinking
So what is product thinking, exactly? According to Billgren, it's a
philosophy
that goes beyond the frameworks and models that are often used in product management. "Excellent product management is led by evolved product thinking," he said. "Product thinking is a philosophy that guides your approach to product development. It's about understanding the purpose and impact of your product and how it fits into the lives of your users."
Product thinking involves a deep understanding of the users and their needs. Billgren emphasized that this requires a team effort, as "very few products are the result of individual effort." It's the product team that needs to work together to identify user needs, develop a vision for the product, and prioritize the features and functionality that will deliver the most value to users.
Takeaways
Product thinking requires a focus on user needs and a deep understanding of the problem you are trying to solve. It's essential to have a clear vision and a framework for decision-making to guide your product development efforts.

Embracing a

philosophy

of continuous learning and experimentation is critical for success in product development. It's essential to be open to feedback and to be willing to iterate and pivot based on what you learn.

Effective product leadership requires empathy, collaboration, and a willingness to empower your team. A great product leader is someone who can communicate effectively, inspire their team, and make tough decisions when necessary.
Given the importance of product thinking in driving successful product management, it's essential to have a solid foundation in the discipline. The Productbeats Show has provided us with valuable insights into the practical application of product thinking principles. But if you're looking to take your product management skills to the next level and gain a comprehensive understanding of the product management framework,
The Productbeats Product Management Certification Program
can help. This program offers a structured curriculum designed to equip you with the knowledge and skills required to excel in product management.
You might also enjoy watching...
Stay Informed
We'll continually release new Instant Solutions
Get The Program Brochure
Submit the form below to have The Program Brochure delivered to your inbox
Sign in or sign up
To get access to all the tools and the show archive.