Episode 10: Our Favourite Product Tools w/Petra Färm & Niklas Rosvall
26 May, 2020 / Host: Magnus Billgren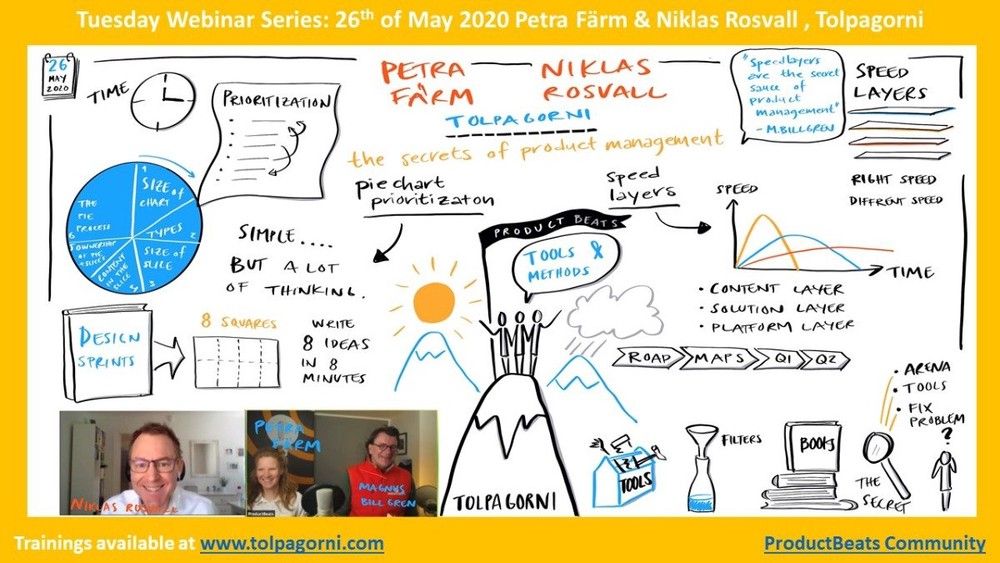 Building a Strong Product Management Toolbox
Product management is all about delivering value to customers by developing and managing products that solve their problems. To achieve this goal, a product manager needs to analyze the context, choose the right tools to use, and fix the problem. While this process might seem simple, it can be challenging for early-stage product managers who lack the experience and skills to execute it successfully.

In this episode of the Productbeats show, Dr. Petra Färm and Niklas Rosvall shared their favorite product tools that can help product managers accelerate their careers. Here, we'll take a closer look at the tools they recommended and explore how building a toolbox can help you become a better product manager.
Analyzing the Context: Understanding the Challenge
Before you can solve a problem, you need to understand the challenge you're facing. Analyzing the context is a crucial step in product management, as it allows you to identify customer needs, pain points, and other factors that could impact the success of your product.

To do this effectively, you need to be able to analyze the situation and have a toolbox of product management tools at your disposal. As Dr. Färm explains, "When you have a toolbox, you know what you can use in different situations. You don't have to reinvent the wheel every time."
Choosing the Right Tools: Pie Chart Prioritization and Crazy 8
Once you've analyzed the context, it's time to choose the right tools to use. Dr. Färm recommends two tools that she finds particularly useful in this regard: pie chart prioritization and crazy 8.
Pie chart prioritization
is a simple tool that can help you prioritize features or ideas based on their importance and impact. By using a pie chart, you can visually represent the different priorities and make it easier to communicate your decisions to stakeholders.
Crazy 8
, on the other hand, is a technique that can help you generate new ideas quickly. The process involves folding a piece of paper into eight sections and then sketching a different idea in each section. This method can be particularly useful for brainstorming sessions, as it encourages participants to generate a large number of ideas in a short period.
Fixing the Problem: Speed Layers and Personas
With the right tools at your disposal, it's time to fix the problem. Niklas Rosvall recommends two tools that he finds particularly helpful in this regard: speed layers and personas.
Speed layers
are a way of breaking down a problem into smaller, more manageable components. This technique can be particularly useful when you're dealing with complex problems that seem overwhelming.
Personas
, on the other hand, are fictional representations of your target customer. By creating personas, you can develop a deeper understanding of your customers' needs, behaviors, and pain points. This, in turn, can help you design products that meet their needs more effectively.
Building Your Toolbox: The Key to Success
As Dr. Färm and Rosvall point out, building a toolbox is critical to success as a product manager. By having a range of tools at your disposal, you can approach each challenge with confidence and ensure that you're using the right technique for the job.
At Productbeats, we recognize the importance of building a
toolbox
, which is why we offer a comprehensive section of product management tools. Whether you're just starting your career in product management or looking to take your skills to the next level, our tools section can help you build your toolbox and accelerate your product career.
As Dr. Färm notes, "Product managers who invest in their skills and continuously learn new techniques are the ones who are most successful in their careers." By building your toolbox and investing in your skills, you can become a better product manager and achieve
Takeaways
Building a toolbox of product management tools is essential to success. As a product manager, you need to be able to analyze the situation, have a toolbox, and know how to use the tools to quickly deliver value.
Different contexts require different tools. While you may have developed a successful way of working in one environment, it may not apply in a new context. Evolving your toolbox and understanding when to use each tool is crucial to becoming a successful product manager.
Pie Chart Prioritization, Crazy 8, Speed Layers, and Personas are just a few of the many tools available to product managers. It's essential to experiment with different tools and find the ones that work best for you and your team.
Developing a robust toolbox and expanding your skill set is a critical aspect of becoming a successful Product Manager. With the right training and guidance, you can master the tools and techniques that will help you deliver value to your customers and business. At Productbeats, we're committed to helping Product Managers achieve their full potential. That's why we've created our
Product Management Certification Program
. This program offers a comprehensive curriculum that covers everything from product strategy and roadmapping to user research and agile development. With our certification, you'll be equipped with the knowledge and skills you need to excel in your Product Management career. So, if you're ready to take your career to the next level, check out the Productbeats Product Management Certification Program today.
You might also enjoy watching...
Stay Informed
We'll continually release new Instant Solutions
Get The Program Brochure
Submit the form below to have The Program Brochure delivered to your inbox
Sign in or sign up
To get access to all the tools and the show archive.