Episode 6
Guest: Ken Sandy
Product Requirement Specification
We had just entered the 21st century, and I read my first Product Management book. It had two long chapters on MRS and PRS ( Market Requirement Specification and Product Requirement Specification).
Since then, the term SPECIFICATION has not only been killed but also expelled from the AGILE community. So I was provoked and intrigued when Ken Sandy brought it back to life in his new book: "The Influential Product Manager."


In the chapter "Defining the Right Product" he talks about a Hypothesis-driven Specification. A new type of specification with desired Business Outcomes and Problems to solve. But why does he call it a specification? Well, the term was not killed everywhere, and it did fill a purpose.


There is a need for a starting point in all development. To stimulate creativity, we need a framework. If the Backlog and Roadmaps are independent objects, they will automatically introduce feature creep and slide away from the original goal. I admit. I have seen the sliding of features and teams prioritizing their backlog badly. Hence wasting precious development hours and throwing away potential revenues.


I do see a second life for the SPECIFICATION as an anchor for the Backlog and Roadmap.


Remember to buy his great book: https://www.bokus.com/bok/9781523087464/the-influential-product-manager/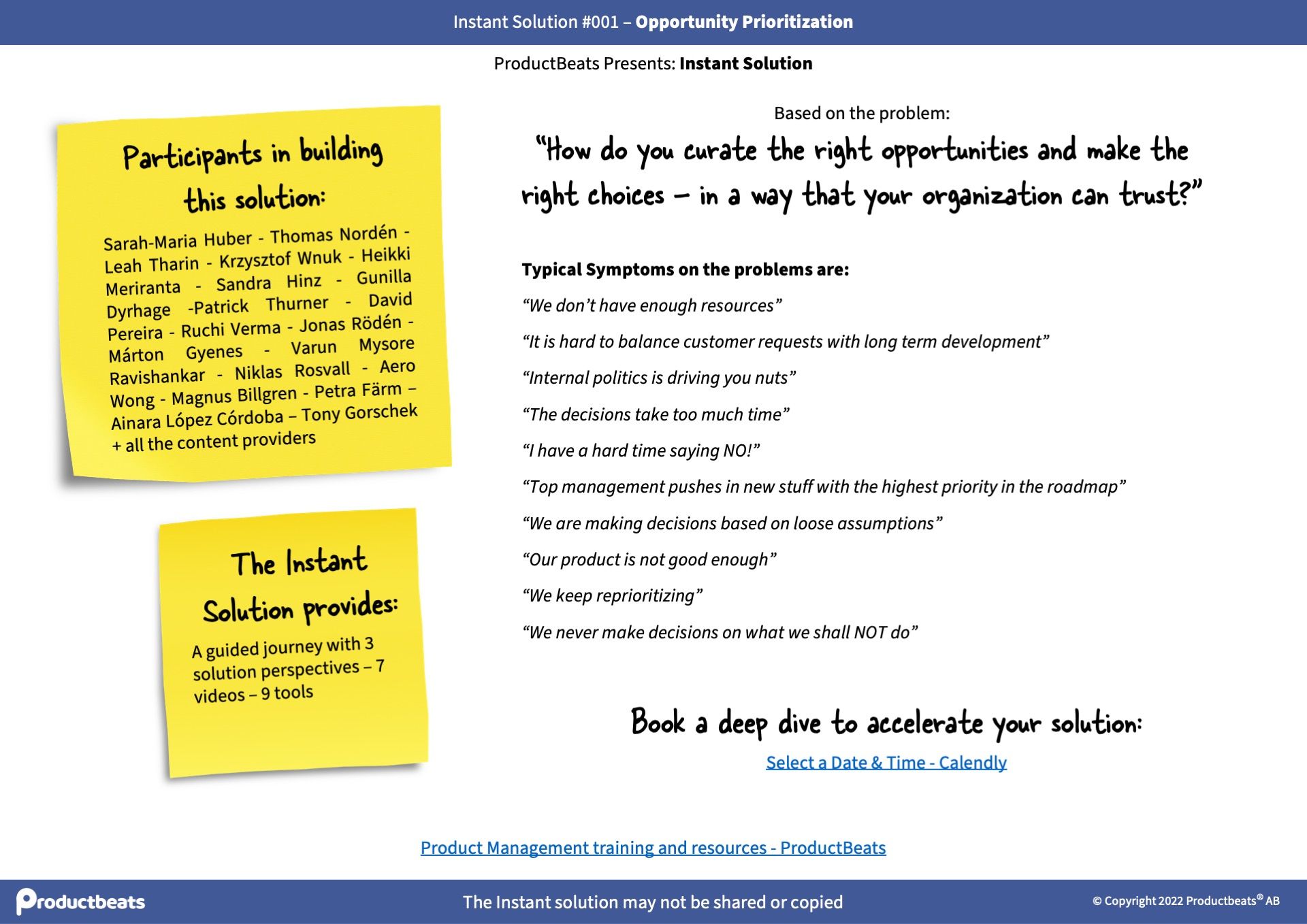 Great to see you here!
Let us bootstrap your career!
Tool #2: Personas
Personas is one of the most basic yet best product management tools. It allows you to achieve an outside in persctive on your product. Often more than one Persona is used for a product. Defining a Buyer Persona and aUser Persona is a typical way of handling it.
Attached are three documents on personas:
An overview of the tool Persona

A short guide in designing Personas from aha.io

A template


REMEMBER: In a changing market you will need to update ypur personas. Otherwise you will make decisions based on obsolete data.
Tool #3: Scenario Planning
Scenario planning is a tool that allows you to get one step ahead of the competition. Instead of focusing on existing requirements in the market, you plan for the change. Scenario thinking is useful in a disruptive market. Especially for major technology shifts or where the fundamentals of the market is radically changed. Normally three or four Scenarios are created. Then you evaluate the likelihood of the scenarios. It is perfect tool to combine with the DIBB-model ((Data > Insights > Belief > Bet). In Scenario context:
Collect relevant Data
Conceptualize you data into Scenarios (Insights)
Make a choice in what Scenario you believe in
Make your bet and plan your actions for the Scenario you are choose


Scenario Thinking can be painful. It requires insightful and analytical individuals to create relevant scenarios. You could start with Lightweight scenarios. Then use the perspective of existing customers and users and create scenarios for them. The use of lightweight scenarios drastically reduces complexity, but it will also reduce the strategic value of scenario planning.


Attached are:
Scenario Tool - description
Scenario Planning - a short description for fast Scenario creation
A review for using Scenario as a tool strategy and development
Driving Forces - the underlying tool for creating Scenarios
Tool #4: Opportunity Scoring
There is never a shortage of ideas or oportunities. But which ones are we to pursue? Can we use some metrics for evaluation? The Opportunity Scoring model is developed by Anthony Ulwick in his work with Outcome Driven Innovation. It is based based on the "Job To Be Done" methodology and how to deliver products that matters. You can use it to evaluate different opportunities based on two dimensions: Customer Importance (for getting the Job Done) and Customer Satisfaction (with his/her existing solution).

By looking at these two diemnsions we can identify Underserved Markets and real opportunities. You can use it to guide discussions and also as a basis for customer research.


Perfect for creating your roadmap and defining the order in your development.


Attached are three objects:
Opportunity scoring overview
Quantifying your customers unmet need ( Opportunity Scoring ODI)
Prioritization Techniques by Daniel Zacarias including Opportunity Scoring
Tool #5: Customer Journey design
2014, rainy November day: I was angry with the Swedish telecom operator TELIA once again. It was hard to be a small company and get the right service and offer. It was not about the price; in fact, I was willing to spend more. But we didn't click. I was looking for other alternatives.
2018, an even rainier November day in Stockholm: I was dancing in the rain. Telia, the notorious Telecom Operator, delivered a proactive and excellent service again. What happened?


In 2016, Telia became obsessed with Customer Experience (The new CEO Helene Barnekow made it happen). The customer journey became a tool they started using. The Telia team had mapped the small company experience, which was filled with pain points. Step by step, they changed the touchpoints and services.


This phenomenal transition was guided by the tool "Customer Journey design". An invaluable tool for all Product Managers to experience the customer perspective


Attached are:
Customer Journey Design tool - Overview
A great description by Sofia Ohlson, Lumoa
Research article on Customer research and Journeys
A presentation by Zornitsa Nikolova, Leanify on how she helöps clients build Customer Journeys
A presentation by Maira Malik on how Tesla has built their Customer Journeys
Tool #6: Minimum Viable Product (MVP)
We have always created prototypes, pilots, Proof of Concepts. Still, the MVP-thinking changed everything. The MVP is not an isolated activity or a prototype; it is a part of a bigger picture. The picture of speeding up product development based on insights. The MVP plays a vital role in the learning process. We need to understand the customer and stakeholder response.

MVP is a tool for feedback. This is vital for the usage of the MVP. It is not primarily a commercial product but a tool for feedback. The MVP generates a solid foundation to discuss and gather relevant feedback from users. Traditional prototypes focus on testing product functionality and technology. The MVP tests the critical components of your product business.
To achieve this, you need to challenge what MVP you are building. It can be an algorithm, a process, a price list, or the delivery of your product.


The MVP thinking gained traction from the book "Lean Startup" by Eric Ries. It is today used widely but not optimally.
Rethink and challenge the way you use MVP in your company. Are you testing the critical stuff in your business? Have you built a functional feedback loop?


Attached are:
MVP overview
Extensive presentation by Eric Ries on MVP
Puttin the MVP into a context and establishing a terminology
Tool #7: A/B Testing
I remember a discussion with the UX director at one of Sweden's leading tech companies. We discussed products and usage. And I asked her why they had been so successful. "It's all about testing." She was obsessed with testing design and usability from step one in the development process to the final product.

Her favorite way of testing was A/B testing. It was easy to analyze the results and easy to create the tests. And by choosing the right alternatives, they had learned to extract lots of data from the analyses.

A/B testing is a simple way to compare two alternatives. From the comparisons, you can get different responses to how many respond or how quick they respond or the quality of response. The method is almost 100 years old and was at the time not designed for Internet ads ;-). Many of us have been using pairwise comparisons, QFD, or conjoint analysis. The A/B testing is the simplest case in these statistical methods.

American Express perfected their direct marketing campaigns using A/B testing in the 80s and 90s.
The fundamental math behind the model is the same, but the real-time environment makes it more powerful. Today multiple tools are available for testing websites and ads on the web, making the tests faster, cheaper, and more powerful.

Use the A/B testing when you want to:
develop new products or features
design online campaigns
to improve the UX
Tool #8: 5 WHYs
My first Product Manager job was at ABB. I was part of a great team to develop electricity meters for the IEC markets (with a focus on Europe). Lars-Olof, Ulf, John, and I had workshops to create the first ABB Meters. John was what in ABB was called a Specialist. A Specialist title was awarded to someone possessing unique skills. John was a specialist in metering and development, but it was a pain to work with John. He challenged everything I said and all the facts I put on the table. He kept asking "Why" in very many ways. Nike had recently launched their brilliant slogan, "Just Do It", and John kept demanding an answer to "WHY?". You can imagine the frustration around the table. It took me some time to see the greatness of John. But it didn't take long until I also became a PAIN for everyone. I had discovered the beauty of the word "WHY".

"Why" is compelling but frustrating. It makes us understand the logic of things. It forces us to think, not just repeat what someone said or believed. But it is often considered a frustrating technique that can flip into a "blame game" or annoy over-ambitious young professionals (as myself in working with John).

To master the "5 WHYs" - technique sounds easy. Just ask "WHY?" five times, right. That just won't get you ANYWHERE. You must always think and connect the answers to the next question. You are unfolding the logic of a problem not just getting answers. Use the "5 WHYs" technique to grok the logic!

Thanks, John, for sharing your greatness!
Tool #9: Value Proposition Design
If we ask people, "What Value do you deliver?", everybody would probably propose a valid, but slightly different explanation. As a consequence of that, we could have many potentially useful definitions of the Value. Most descriptions would be able to stress different aspects of Value and would approach the word from different angles.

Value concepts are, however, often severely designed and rather useless. Especially if everyone has their own. Groups turn the value-work into details or a philosophical discussion and not into a business driver. To execute a value strategy, and truly leverage the powerful concept of Value, we will need principles and directions. We need to be concrete. We need to have principles. We need to have established ways of working.

The work by Christensen et al. in "The Innovators Dilemma" and Tony Ulwicks' work on "Outcome Diven Innovation" form the basis for a new Value-era.

The Value Era has been crowned by the models from Strategyzer and Alexander Osterwalder in the "Value Proposition Design" model. It truly helps us in becoming explicit in our Value Proposition.

It is a perfect start and ending for the Value work. Combine it with Resonating focus, Driving Forces, and Target Market Design, and you are set to go!
Tool #10: Hegelian Dialectics
During my studies, I spent one year digging into the world of Philosophy. I never thought that I would learn ways of thinking that would help me create products faster and better. But I did. And to my big surprise, I see how today's agile methods are the thoughts of HEGEL. Friedrich Hegel was a German Philosopher from the early 19th century. He described the history and the world in new ways changing our way of thinking forever.

One of the most revolutionary thoughts is the concept of Hypothesis. He created what has been known to the world as Dialectics. We create a HYPOTHESIS, challenge it with an ANTI-THESIS, and create a SYNTHESIS. Some would call it an AGILE way of working. Then Hegel should be named the father of Agile methodologies.

Hegelian dialectics can be used on a thought, in a process, on your strategy creation and DevOps work. You can use it every day where you strive to accelerate your thinking.

Attached are:
The summary of Hegelian Dialectics
How hypothesis helps you develop the right product
Agile strategy creation with hypothesis experiments
DevOps with hypothesis
Tool #11: Voice of the Customer - 8 Steps VoC
In 1994 I was appointed Product Manager for the new Electricity Meter "Alpha" within ABB. The metering market was to explode within the next ten years. Over 1 Billion IEC Meters shall be replaced worth, on average 100 Euros. A big market.

A big first product challenge for my product career to be. I asked myself:
"But what does the customer want to have? They don't know it themselves? How can we ask them about their desires?"

Our focus was to attack the European Metering Market. My job was to plan and roll out a new portfolio of smart meters. The new technology and the new standards opened up for a type of metering, based on electronics. The meters needed to follow the IEC specifications. But at the same time, we needed to change the concept of metering.

I traveled around Europe and visited Electric Utilities. We organized seminars and workshops on our product plans. We listened to the customers. We even let some customers decide what we should do. I thought we used the Voice of the Customer. We did NOT!

Just listening to the requirements from the customers will not guide your development in the right direction. A more in-depth analysis must be made. The 8 step VoC model developed has proven itself successful. It is a process in which you connect customer requirements with the Value. With the 8 step VoC model you can plan and prioritize according to the Value, not the individual customer requests.

I have seen the miracle it delivers; Market dominance, higher prices, and more satisfied customers. It is a difficult journey, but it will be worth it. I wish I had done the VoC-journey back in 1994.
Tool #12: Problem Design
Let the Problem lead your way to the Solution!

10 years ago a manager told me - why do you see problems all the time? Be positive, call it an opportunity! Let us focus on the product we are to develop instead. Problems bring so much bad energy to the table. She was right, but, she was also wrong.

Today, problem design is sweeping through the Product Management arena. The latest models are not about designing a solution, but rather on defining the problems worth solving. Focusing on the the needs of the consumers. That's why we need to prioritize amongst problems, not in solutions. Understanding the true impact of the problem, means we can solve almost anything, when pinpointing the right definition.

You might think it's a game of words. But it is part of a bigger wave of thoughts that consists of design thinking, true customer insights and business thinking. We have a reached a tipping point where customers are not looking for additional functions and features, but are trying to solve real problems in their situations. By using a problem driven design you allow sales and marketing to find the competitive edge.

It is important to consider the long term thinking. The Problem Design driven methodology tend to focus on today's problem. You need to add also long term thinking via Driving Forces or other insight tools.

Attached are:
An overview Problem Design
Thoughts on how to create a Problem statement
A workshop technique and process for getting the job done
Tool #13: Validation Biases
You know the situation; you are having a workshop concerning the roadmap. The room is filled with thoughts and ideas. But what is based on facts and data, and what are opinions and fashion? It is hard to tell the difference.

In one of my earlier startups during the dotcom era, we were confident that we based the decisions on facts. But one crucial decision on our mail and SMS messaging was based on entirely wrong information and was a direct result of data biases. Poor analysis by a management group had destroyed the data, and numerous sources then quoted it. When we thought we had useful data from multiple institutions, we only had one skewed analysis.

As we today are basing even more decisions on data, we need to rethink how we interpret it. We all know how easy it is to be misguided by our own opinions and thoughts. A great product manager can move away from biases and analyze the situation. To achieve unbiased decisions, you need to know the traps. The book FACTFULNESS by Rosling et al. shares ten common pitfalls. It also shares tons of tricks and attitudes to avoid falling into them.

Attached are:
Summary of the the tool/attitude
A documentat with eyeopeners to avoid confirmation bias
A document on how overcome cognitive bias
Tool #14: Pie Chart Prioritization
Grok the Logic - Reach the Magic

The Pie chart is Magic. It is simple, everyone understands, and it looks good on a PowerPoint!

You are already using a pie chart, you have done that since fifth grade. But have you discovered the Logic and Magic of the Pie Chart? Once you start to understand the pure Logic of Pie Chart, it unveils Product Management Secrets. The Pie chart is a process; it is a decision-making tool; it is a decision facilitator; it is a resource planner, it is the roadmap... Correctly used, it can be the only tool you need to use!

Let's take a look at the components of a Pie chart. I want to cover 6 Pie chart concepts we have worked with and successfully implemented in numerous companies.
The size of the Pie
The types of slices you have
The size of the slices
The content in the slice
Ownership of the Pie and the slices
The Pie Process
PIE SIZE

The size is the resources available for your product. Mostly we use the PIEs for development, but it can also include other resources such as marketing, salespeople, Somewhere there is a decision on the resources you get. The Pie chart is also an excellent tool to show what you can achieve with the given resources. It will show management what we CANNOT do with the existing team.

SLICE TYPES
The types of slices you have are your vital areas. The choice of slices is often a part of your product strategy. It can be traditional slices like Feature, Bespoke Development, Quality, Operations, Architecture, etc. But in some cases, it makes more sense to have slices on modules in your product like Platform, API, XX Application, YY Application, ZZ Application, etc. In one case, we implemented slices based on markets like (the UK, Nordics, China, Europe...). The choice of slices will decide how the teams view the product you are managing.

SLICE SIZE
The decision on sizes of slices is the link between strategy and operations. How much time shall you spend on fixing Quality issues? How much of our resources shall we spend in getting ready for the Chinese launch? The decision of the slice size is exceptionally strategic and operational at the same time.

SLICE CONTENT
The content of a slice is an exciting topic. How do we decide over that? in some cases, we have worked with themes in the slices. The quality might have a theme like " the CSR-Ceasar" perspective. Then we automatically prioritize quality issues that affect "CSR- Ceasar." Each slice can have has its backlog. The backlog grooming is done separately for the different slices. You can also steer the content of the slice by defining the prioritization logic of how we shall rank the various proposals.

OWNERSHIP
Somebody has control over the pie size. Someone else might have a saying on the types of slices. The ownership of a slice can also be different than the ownership of a Pie. Someone decides the complete product budget; another decides on how to spend the quality slice. The pie chart is a beautiful tool to define the ownership. And the cool thing about it is that it is connected with the strategy and the operations. So you get ownership of the strategy execution.

PIE PROCESS
Obviously, there is no timeline in a pie chart. To make it work in reality, you have to create a separate pulse/process to make the Pie Chart work. The process shall answer questions like: When do we make decisions on the types of slices, And by whom? How often do we challenge the content of the slice? And who is doing that? When do we decide upon the size of the Pie? And who? Etc. With the Pie Chart as a starting process, you can define a Product management process.

Grok the Logic - reach the Magic
The pie chart logic contains a depth that you can leverage on. It allows a complex decision-making process to become easily communicated. The real Magic appears when you and the stakeholders grok the Logic of Pie Charts. In a given size of the Pie; One slice cannot grow without reducing another one! When you understood the Logic of the pie chart, you get the Magic!

Attached are some documents referring to prioritization in general and with examples of Pie Chart thinking.
Overview Prioritization
A paper from Rich Mironov on Prioritization thinnking
How to think when preparing for a roadmap - with a Pie chart example
@Daniel Zacarias paper on prioritization